By its very nature, massage and bodywork requires being in close contact and you should know that infection control has always been a top priority for my practice. As we navigate life with additional requirements and modify existing measures due to COVID-19, please help me to support all of my clients by cooperating with some new requirements.
Below are high-risk conditions. Please forgo massage at this time if you have one of these conditions and have not been vaccinated.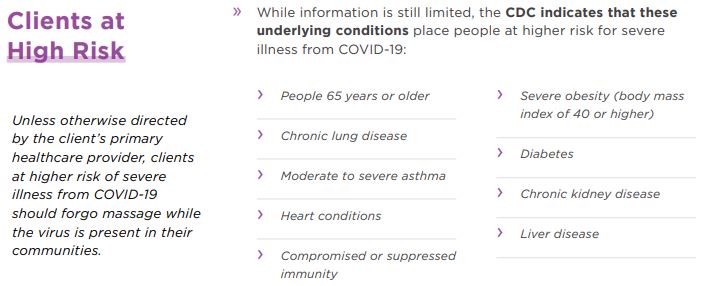 My practice now follows Practice Guidelines recommended by the Federation of State Massage Therapy Boards (FSMTB), along with infection control recommendations made by the U.S. Centers for Disease Control and Prevention (CDC) and the Occupational Safety and Health Administration (OSHA). I have made the following changes to help protect my clients and myself:
I will communicate with you beforehand to obtain updates to your health information and ask you specifically about your potential exposure to COVID-19. I will also be asking clients to sign an updated informed consent form that acknowledges infectious diseases. (Subsequent appointments will require a COVID-specific intake each time.)
If you are unvaccinated, please wait two weeks after any travel or potential or known exposure before coming in for an appointment. 
When you arrive, wait in your vehicle and text me to let me know you've arrived (443-840-0682). I will text you back when I am ready for you to come into the office. This ensures that we don't have too many people in our small reception area at one time.
Friends and family are not allowed to wait in the reception area while you receive massage. If the client is a minor, only a legal guardian may wait in the reception area.
Masks: Please bring a face mask to use while you are in the building, and during your massage. Keep it on until you leave. (Due to the rise of the highly transmissible Delta variant of the SARS-CoV-2 virus, plus the fact that we are in close contact, for an extended period of time, in an enclosed room, I am not prepared to relax this just yet. I appreciate your understanding.)
Because a face mask is worn for the duration of the massage, safe face massage is not possible and therefore prohibited at this time.
The CDC suggests that COVID-19 infected respiratory droplets can be dispersed when people talk. For this reason, talking is limited to communication about pressure, warmth, and comfort while in the enclosed space of the session room.
Please consider prepaying online via credit card, PayPal, or Venmo (I will send you an invoice to do this) or have a check written or exact cash ready in advance. This will limit your time in the office after your session is over. 
Please re-book online or call or email me after your session. This limits your time in the office after your session is over.
If you feel ill on the day of your session, there is no penalty for canceling your appointment. Massage is not advised if you have any symptoms of illness.
I will email you an appointment follow-up requesting that you contact me if you develop any cold or flu-like symptoms, or if you are diagnosed with or test positive for COVID-19. 
I will be disinfecting the massage table and all touched surfaces after every client. 
One of the most important findings about COVID-19 communicability is that it is spread most commonly by way of airborne particles, and NOT by way of droplets that contaminate surfaces. (Although this is still possible, and it is important to keep treatment room surfaces clean, they are not the teeming source of infections we once thought.) In other words, an infected person doesn't have to cough, or sneeze, or laugh, or yell—all they have to do is breathe, and new virus will enter the room. This finding means that good air turnover is critical to lower the risk of spreading the infection. As such, I have purchased an air purifier for my treatment room.
These changes are in effect until COVID-19 is no longer present in the community. They are subject to being updated or amended at any time.
---
Before each appointment, you will be getting some important emails.

When you schedule an appointment, you will receive:
a confirmation with your appointment day and time; this email will also include the new COVID policies and procedures – please take the time to review them
One to two days before your appointment, you will receive 3 emails:

an invoice should you choose to prepay
a reminder email that restates the new policies and procedures
a documents request email that includes a link to:

a COVID-specific health intake;
a COVID-specific informed consent form;
an updated general informed consent form to read and sign
all forms MUST be completed BEFORE arriving
Again and as always, I thank you for your patience and understanding about this.